The Tom Kruse Website
Welcome to the website dedicated to accurately telling the stories in words and pictures about the remarkable life of Australian Outback legend, dam sinker, carrier and Birdsville Track mailman Tom Kruse.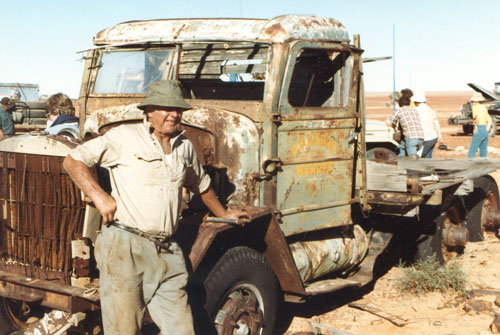 'To know the history of the people of the 500 kilometre track between Marree in South Australia and Birdsville in Queensland is to understand what it means to be Australian' - The Mailmen Back of Beyond
Esmond Gerald (Tom) Kruse MBE was born in Waterloo in South Australia on August 28th 1914 and died in Adelaide at the age of 96 on June 30th 2011.
'Their deeds, lives and struggles have been etched into the national consciousness in film, photos, paintings, verse, sound and song. Men like William, Alex and Ken Crombie – Frank Booth, Billy James and Fred Teague – Allan 'Seamus' O'Brien, Max Bowden and Harry Ding - whip makers Alec Scobie and his drover, truck driving son Monty – and the men made famous worldwide by the movie The Back of Beyond, William Henry Butler and Tom Kruse' – The Mailmen Back of Beyond
The material on this site includes a significant number of unique and historically important photographs, documents and videos generously provided by the Kruse family and members of the wider community.
The site was launched on the 100th anniversary of Tom's birth and the release of a new double DVD set The Tom Kruse Collection, distributed by the RFDS.
The site is dedicated to memory of Tom and Valma Kruse. It was established by funds provided by the Tom Kruse Bust Appeal and is sponsored by BizBoost in support of the RFDS.
Ian Doyle
Executive Producer
The Tom Kruse Collection


The Mailmen
Back of Beyond
Last Mail from Birdsville

---